Organisations, including businesses and not-for-profits, have many different objectives. All though, need to communicate particular messages effectively, attract their targeted audience(s), encourage customer sales, support and/or donations, and look after the bottom line. Read on to see how graphic design can help your business achieve its goals.
The term 'graphic design' is often defined quite loosely but it covers a myriad of solutions, namely professionally executed visual artwork designed for commercial printed, digital or environmental applications. Graphic Design is one of the most powerful strategic tools that can be utilised by an individual practitioner, business or organisation to effectively distinguish themselves from their competition.
So, what are the most common graphic design services and how do they specifically help your business or not-for-profit achieve its objectives? Let's take a deeper look at five core streams and some accompanying examples:
Logo Design, Branding & Stationery
Unbeknownst to many, 'branding' encompasses so much more than just a logo (which normally comprises a business's name and unique iconic symbol or motif). A 'brand' is made up of many visual elements that aim to tell a unique and compelling story about a particular product, service or business. These might include a logo, core 'symbol', printed stationery, promotional materials, signage and a website, for instance. They are often supported by other solutions including photography or copy (text) that might adopt a particular style designed to resonate with a specific target audience.
Below is an example of some business cards we designed for client McDonald Marine, after conducting a re-branding exercise. The logo was also extended out to other solutions including letterheads, with compliments slips and a new website. The re-branding has assisted McDonald Marine to look more professional and up-to-date, thereby helping them increase sales and grow their business.
Information Design
Along with the evolution of the information age, the sheer quantity of data available for our day-to-day consumption has increased exponentially. Accordingly, the need to present data in ways that excite and engage, yet also inform, is more important than ever. Information design is, in summary, the graphic presentation of data. Using icons / iconography, illustration, colour and symbols; graphic designers can deliver statistical information in a way that is easier for your audience to interpret and that more effectively conveys your desired core message.
Below is an example of a couple of simple infographics we designed for Melbourne client Early Childhood Management Services (ECMS), for use in printed reports and online. As opposed to text or even traditional graphs and tables, these infographics have helped this organisation successfully communicate their core achievements to staff, supporters and advocates. This in turn has lead to a more widespread understanding of where they've come from and what their future goals and core needs are.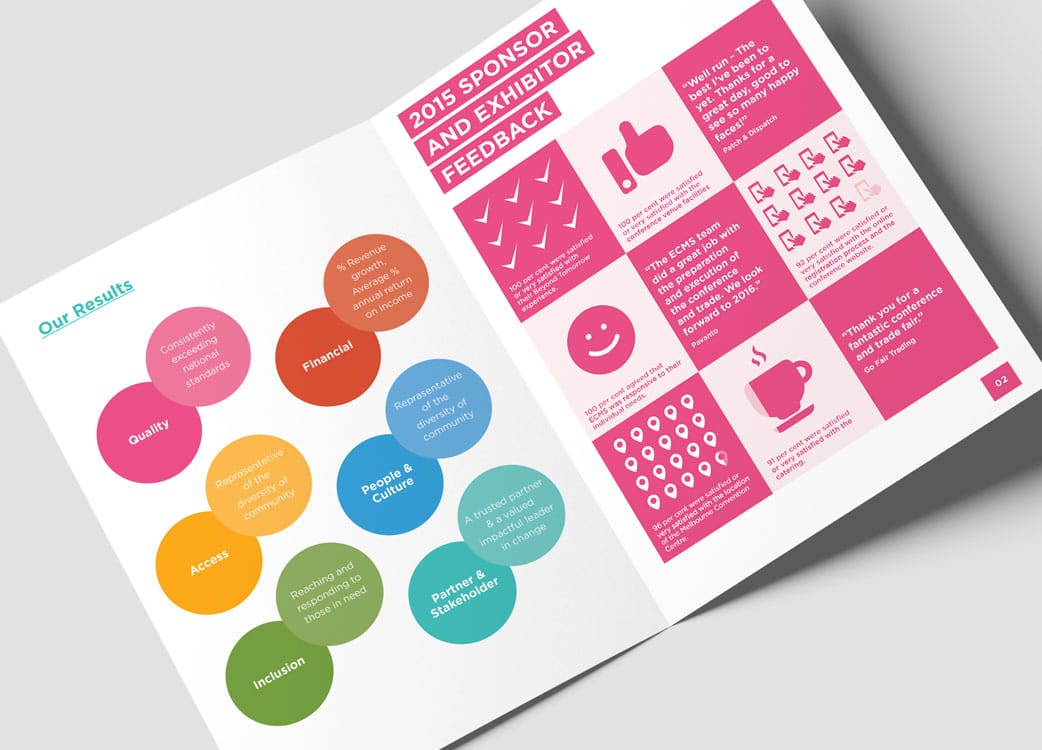 Annual Reports, Brochures & Publications
Despite 'commercial art' eventually becoming known, in contemporary business-speak, as 'graphic design', the design of printed publications, including annual reports, brochures, flyers, posters, newsletters, magazines and books have been been a professional mainstay. Before the advent of the web, these marketing collateral were core mechanisms for businesses and organisations to deliver critical information about themselves – their operational ethos, performance and products / services – to key audiences, organisational stakeholders and prospective clients. Today, used together with digital marketing solutions, they are still vital marketing tools and, in some cases, resonate more with end users due to their tangibility.
Please find below a snapshot of an annual report concept we recently created for Canterbury and Surrey Hills Community Finance's (part of the Bendigo Bank) 2015/2016 annual report. We were proud to take out bronze and silver awards for previous years annual reports (2013/2014 and 2014/2015) for this same client at the Australasian Reporting Awards. The report has consistently positioned them as a design-driven, innovative leader with a strong community focus, significantly differentiating them from other similar banking institutions (a sector known in particular for its conservatism).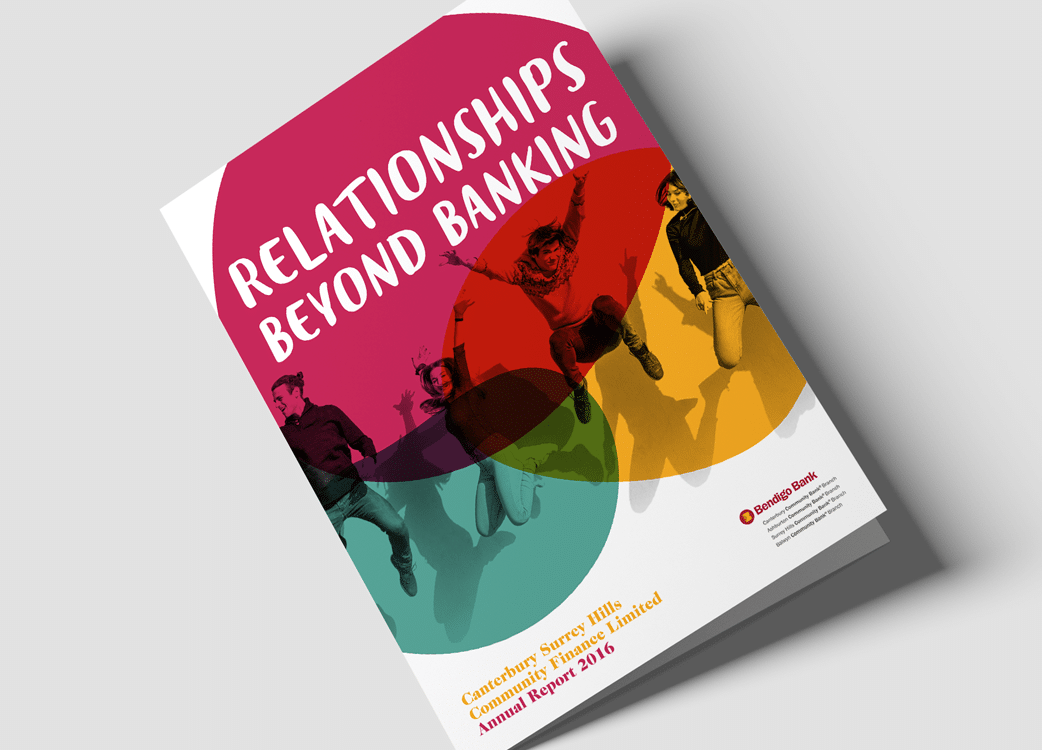 Environmental Design & Signage
Philosopher Alain De Botton has spoken widely and often at great length about the 'architecture of happiness' or the multitude of ways in which a physical space can elicit an emotional response in those that inhabit it. Along with architecture and interior design, graphic design has a large part to play in this via the production of effective environmental design and signage solutions. Environmental design may include way-finding / directional solutions and maps, large format advertisements and/or large format artwork. Signage may include traditional identifying signage often replicating a businesses brand a number of times as a physical sign in any number of contexts such as a retail premise, vehicle, office façade or specific product etc).
In late 2015, we completed a naming / branding project for a new gelato and gourmet sweets store in the seaside town of San Remo, Victoria, named 'Sweetly'. Part of the design brief was to create a brand that would effectively translate into a fun and colourful sign for the interior and exterior of the store and also inform the look and feel of other environmental graphics, such as a large format menu containing product pricing. The end result has not only left Sweetly with a clean and fresh brand that completely reflects their operational ethos (fun, fresh, local, ethical), but really sparks the curiosity of passers by, inviting them to come into the store, have a look around and try the products for themselves. So good design translates into more sales and increased profits.
Digital Design
This one speaks for itself. In the digital age, if a business or organisation does not have – at the absolute bare minimum – a basic web presence, some argue they may as well not exist! Of course a business's website's design needs to appeal to the right target markets(s) and send the right message about that business. There is no use potential customer's getting to a website and then being put off by the poor design or the fact that it is unreadable on a mobile.
When executed regularly and well, peripheral solutions spanning social media and digital marketing (search engine optimisation, directory listings, high quality articles on high quality websites etc..) can also bolster the effectiveness of a business's web presence and help to further distinguish it from the competition. A website needs to be 'findable' to be worth the investment.
Since its inception in 2011, JCD has helped over 100 Australian businesses (of varying sizes and with often vastly different needs) successfully establish a professional, customised website. Below is an example of a website we've recently received a lot of kudos that was developed for Melbourne based designer Marc Pascal. Not only is the website fully responsive (portable device optimised), it successfully acts as both a gallery and online store for Marc's stunning and unique work spanning lighting and ceramics. This, in turn helps Marc promote his work, turn browsers into customers and drive revenue growth for his business.
So there is a myriad of ways that graphic design can assist your business. We have merely scraped the surface. For more information about graphic design you can browse the Australian Graphic Design Association website. For a quote or a chat about how we might be able to help your business thrive, feel free to contact us. To contribute your insights, please comment below.
How has graphic design helped your business? We'd love to hear your stories.